WEI YANG on CHINESE ART

Dr. Wei Yang discusses connoisseurship and valuation of Chinese art from the perspective of a trained Chinese art historian (Ph.D. in Chinese art) and a practicing Accredited Senior Appraiser (ASA) in Asian Art and Appraisal Review and Management (ARM).


My Goals
This website is designed for Chinese art connoisseurs and collectors, appraisers and professionals, students and teachers who wish to develop expertise in Chinese art. In my career as an educator and for the past eighteen years as an appraiser and Chinese art expert witness, I have often been asked how to appreciate Chinese art and aesthetics and how to develop competence in appraising Chinese art.
My books are intended to educate readers about the essentials of Chinese art, introduce key Chinese artists and masterworks, and provide practical advice for developing expertise in appraising Chinese art.

My first book on Chinese art connoisseurship and appraisal, Wei Yang's Guide to Chinese Painting and Calligraphy (Tianjin: Nankai University Press, 2022) was published in late 2022 and is now available for purchase.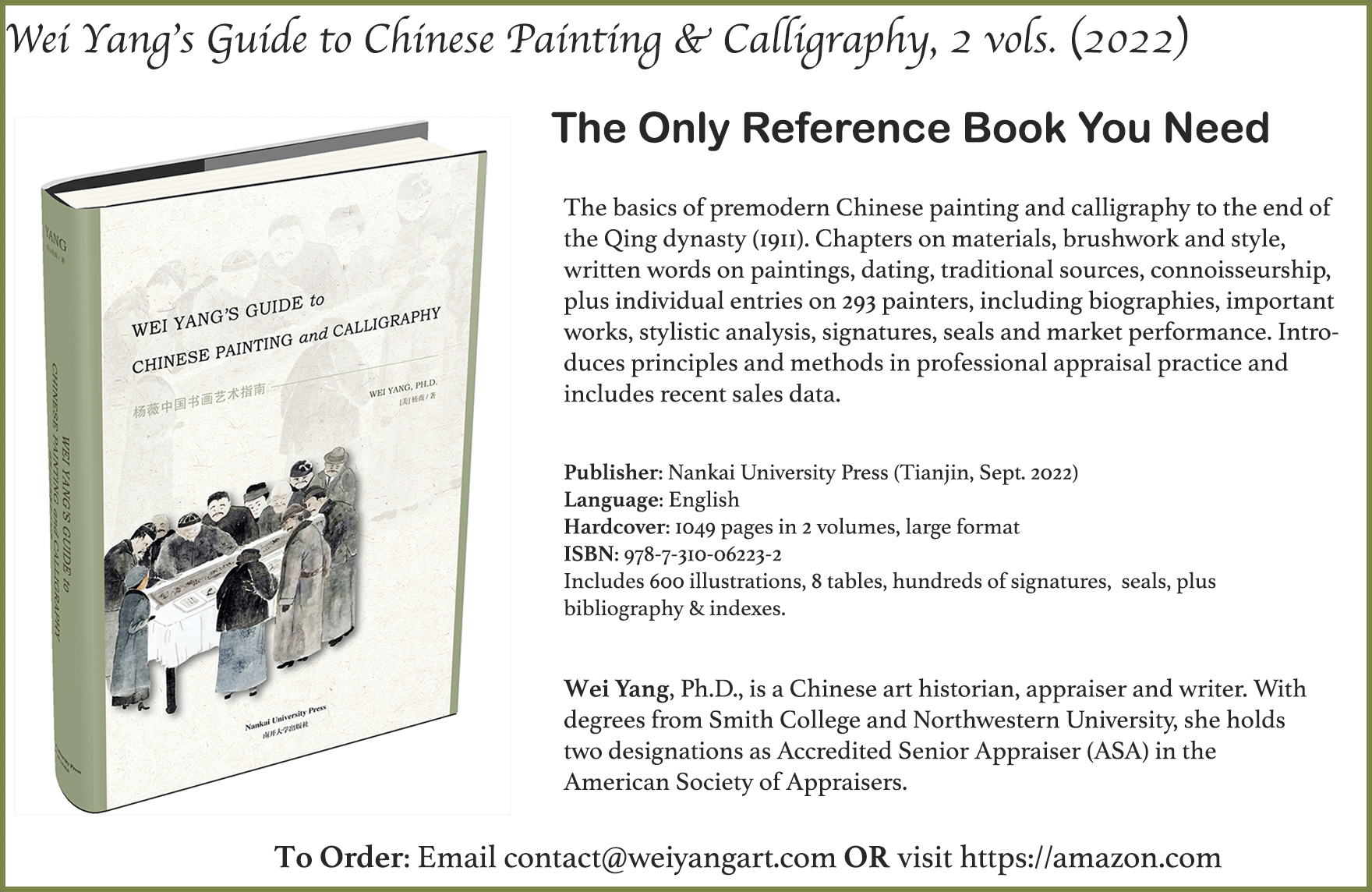 To Purchase: Email contact@weiyangart.com OR visit www.amazon.com for Wei Yang's Guide to Chinese Painting & Calligraphy; OR www.amazon.com for Desert Bloom (Shazaohua de gushi) 沙枣花的故事.
Buy Direct from Author:
Special Offer:
: $199/set (25 % off the retail price: $268.99), including free shipping via UPSP media mail for domestic orders; international buyers are responsible for the standard postage charged by USPS or Express delivery cost by your choice
Pay via PayPal or Zelle
to:
contact@weiyangart.com
By Check
: payable to
"Wei Yang" at 274 Nassau Street, Princeton, NJ 08540
Important Note:
Please include your full contact information (phone and email) and shipping address with your payment
All the books in the trilogy offer the basics of Chinese art, introduce aesthetics and standards of judgment, and provide practical advice on appraisal practice. My book on premodern Chinese painting and calligraphy prior to 1911 (2 volumes) was published in 2022. Future books will cover Chinese ceramics and Chinese jade, respectively.